Part of successfully growing a garden is knowing your USDA hardiness zone. USDA plant hardiness zones are the standard by which gardeners and growers can determine which plants are most likely to thrive at any given location. Some plants are able to survive outside of their hardiness zone, but can only survive for one growing season and are therefore considered annuals.
Arizona's plant hardiness zones range from 5a, where winter temperatures can drop as low as -25 degrees Fahrenheit, to a much hotter 10a, where winter temperatures only drop to 30 to 35 degrees Fahrenheit. 
Advertisement
USDA Hardiness Zone Map For Arizona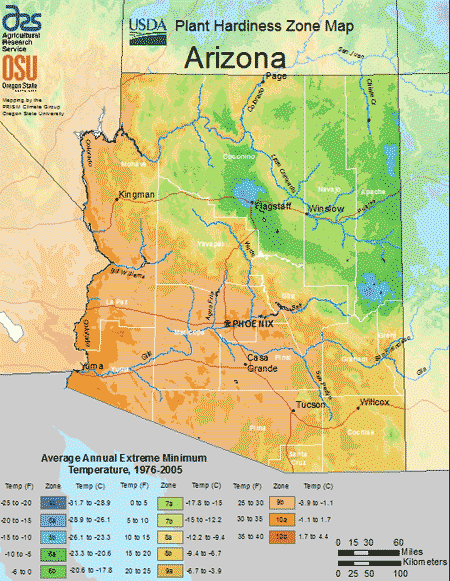 Above is the USDA hardiness zone map for all of Arizona.
Advertisement
USDA Hardiness Zones For All Cities In Arizona
Below is a table of the USDA hardiness zones for all towns and cities in the state of Arizona.
Advertisement
| | |
| --- | --- |
| Aguila | Zone 9a: 20°F to 25°F |
| Ajo | Zone 10a: 30°F to 35°F |
| Ak Chin | Zone 9a: 20°F to 25°F |
| Ak-Chin Village | Zone 9a: 20°F to 25°F |
| Ali Ak Chin | Zone 9a: 20°F to 25°F |
| Ali Chuk | Zone 9b: 25°F to 30°F |
| Ali Chukson | Zone 8b: 15°F to 20°F |
| Ali Molina | Zone 8b: 15°F to 20°F |
| Alpine | Zone 6a: -10°F to -5°F |
| Amado | Zone 8b: 15°F to 20°F |
| Anegam | Zone 9a: 20°F to 25°F |
| Angell | Zone 5b: -15°F to -10°F |
| Antares | Zone 8a: 10°F to 15°F |
| Anthem | Zone 9b: 25°F to 30°F |
| Apache Junction | Zone 9a: 20°F to 25°F |
| Aripine | Zone 7a: 0°F to 5°F |
| Arivaca | Zone 8a: 10°F to 15°F |
| Arivaca Junction | Zone 8b: 15°F to 20°F |
| Arizona City | Zone 9a: 20°F to 25°F |
| Arizona Snowbowl Ski Area | Zone 6a: -10°F to -5°F |
| Arizona Village | Zone 10a: 30°F to 35°F |
| Arlington | Zone 9a: 20°F to 25°F |
| Ash Fork | Zone 7a: 0°F to 5°F |
| Ash Peak | Zone 8a: 10°F to 15°F |
| Ashurst | Zone 8b: 15°F to 20°F |
| Avondale | Zone 9b: 25°F to 30°F |
| Avra Valley | Zone 9a: 20°F to 25°F |
| Aztec | Zone 9b: 25°F to 30°F |
| Bagdad | Zone 8b: 15°F to 20°F |
| Bapchule | Zone 9a: 20°F to 25°F |
| Bawtry | Zone 8b: 15°F to 20°F |
| Bear Flat | Zone 6b: -5°F to 0°F |
| Beaver Dam | Zone 8a: 10°F to 15°F |
| Bellemont | Zone 6b: -5°F to 0°F |
| Benson | Zone 8a: 10°F to 15°F |
| Beyerville | Zone 8b: 15°F to 20°F |
| Bibo | Zone 6b: -5°F to 0°F |
| Big Park | Zone 8a: 10°F to 15°F |
| Bisbee | Zone 8a: 10°F to 15°F |
| Bitter Springs | Zone 7a: 0°F to 5°F |
| Black Canyon City | Zone 9b: 25°F to 30°F |
| Blackwater | Zone 9a: 20°F to 25°F |
| Blue | Zone 7a: 0°F to 5°F |
| Blue Gap | Zone 6b: -5°F to 0°F |
| Bluewater | Zone 9b: 25°F to 30°F |
| Bouse | Zone 9a: 20°F to 25°F |
| Bowie | Zone 8b: 15°F to 20°F |
| Brenda | Zone 9a: 20°F to 25°F |
| Bryce | Zone 8b: 15°F to 20°F |
| Buckeye | Zone 9a: 20°F to 25°F |
| Bullhead City | Zone 9b: 25°F to 30°F |
| Bumble Bee | Zone 9a: 20°F to 25°F |
| Burnside | Zone 6a: -10°F to -5°F |
| Bylas | Zone 8b: 15°F to 20°F |
| Cactus Flat | Zone 8b: 15°F to 20°F |
| Cactus Forest | Zone 9a: 20°F to 25°F |
| Calva | Zone 8b: 15°F to 20°F |
| Cameron | Zone 7b: 5°F to 10°F |
| Camp Verde | Zone 8b: 15°F to 20°F |
| Campo Bonito | Zone 8b: 15°F to 20°F |
| Cane Beds | Zone 7b: 5°F to 10°F |
| Canelo | Zone 8a: 10°F to 15°F |
| Canyon Day | Zone 7b: 5°F to 10°F |
| Canyon Diablo | Zone 5b: -15°F to -10°F |
| Carefree | Zone 9b: 25°F to 30°F |
| Carrizo | Zone 6b: -5°F to 0°F |
| Casa Blanca | Zone 9a: 20°F to 25°F |
| Casa Grande | Zone 9a: 20°F to 25°F |
| Casas Adobes | Zone 9a: 20°F to 25°F |
| Cascabel | Zone 8b: 15°F to 20°F |
| Cashion | Zone 9b: 25°F to 30°F |
| Castle Hot Springs | Zone 9b: 25°F to 30°F |
| Catalina | Zone 9a: 20°F to 25°F |
| Catalina Foothills | Zone 9a: 20°F to 25°F |
| Cave Creek | Zone 9b: 25°F to 30°F |
| Cedar Creek | Zone 7b: 5°F to 10°F |
| Central | Zone 8b: 15°F to 20°F |
| Central Heights-Midland City | Zone 9a: 20°F to 25°F |
| Chambers | Zone 6a: -10°F to -5°F |
| Chandler | Zone 9a: 20°F to 25°F |
| Chandler Heights | Zone 9a: 20°F to 25°F |
| Charco | Zone 9a: 20°F to 25°F |
| Chiawuli Tak | Zone 8b: 15°F to 20°F |
| Chilchinbito | Zone 6b: -5°F to 0°F |
| Chinle | Zone 6b: -5°F to 0°F |
| Chino Valley | Zone 7a: 0°F to 5°F |
| Chiuli Shaik | Zone 8b: 15°F to 20°F |
| Chloride | Zone 8b: 15°F to 20°F |
| Christopher Creek | Zone 6b: -5°F to 0°F |
| Chuichu | Zone 9a: 20°F to 25°F |
| Cibecue | Zone 7b: 5°F to 10°F |
| Cibola | Zone 9b: 25°F to 30°F |
| Cienega Springs | Zone 9b: 25°F to 30°F |
| Citrus Park | Zone 9b: 25°F to 30°F |
| Clarkdale | Zone 8b: 15°F to 20°F |
| Clay Springs | Zone 7a: 0°F to 5°F |
| Claypool | Zone 9a: 20°F to 25°F |
| Clifton | Zone 8a: 10°F to 15°F |
| Cochise | Zone 8a: 10°F to 15°F |
| Colorado City | Zone 7b: 5°F to 10°F |
| Comobabi | Zone 8b: 15°F to 20°F |
| Concho | Zone 6b: -5°F to 0°F |
| Congress | Zone 8b: 15°F to 20°F |
| Constellation | Zone 9a: 20°F to 25°F |
| Coolidge | Zone 9a: 20°F to 25°F |
| Coolidge Dam | Zone 9a: 20°F to 25°F |
| Copper Hill | Zone 9a: 20°F to 25°F |
| Cordes | Zone 8b: 15°F to 20°F |
| Cordes Lakes | Zone 8b: 15°F to 20°F |
| Cornfields | Zone 6b: -5°F to 0°F |
| Cornville | Zone 8b: 15°F to 20°F |
| Corona de Tucson | Zone 9a: 20°F to 25°F |
| Cortaro | Zone 9a: 20°F to 25°F |
| Cottonwood | Zone 8b: 15°F to 20°F |
| Cowlic | Zone 9a: 20°F to 25°F |
| Crag | Zone 9a: 20°F to 25°F |
| Crown King | Zone 9a: 20°F to 25°F |
| Crozier | Zone 8a: 10°F to 15°F |
| Cutter | Zone 9a: 20°F to 25°F |
| Dateland | Zone 9b: 25°F to 30°F |
| Del Muerto | Zone 6b: -5°F to 0°F |
| Dennehotso | Zone 6b: -5°F to 0°F |
| Desert Hills | Zone 10a: 30°F to 35°F |
| Dewey | Zone 8a: 10°F to 15°F |
| Dewey-Humboldt | Zone 8a: 10°F to 15°F |
| Dilkon | Zone 6b: -5°F to 0°F |
| Dinnehotso | Zone 6b: -5°F to 0°F |
| Dolan Springs | Zone 8b: 15°F to 20°F |
| Dos Cabezas | Zone 8a: 10°F to 15°F |
| Douglas | Zone 8b: 15°F to 20°F |
| Dragoon | Zone 8a: 10°F to 15°F |
| Drexel Heights | Zone 9a: 20°F to 25°F |
| Dudleyville | Zone 9a: 20°F to 25°F |
| Duncan | Zone 8a: 10°F to 15°F |
| Eagar | Zone 6a: -10°F to -5°F |
| East Fork | Zone 7b: 5°F to 10°F |
| East Sahuarita | Zone 9a: 20°F to 25°F |
| Eden | Zone 8b: 15°F to 20°F |
| Ehrenberg | Zone 9b: 25°F to 30°F |
| El Mirage | Zone 9b: 25°F to 30°F |
| Elfrida | Zone 8a: 10°F to 15°F |
| Elgin | Zone 8a: 10°F to 15°F |
| Eloy | Zone 9a: 20°F to 25°F |
| Emika | Zone 9b: 25°F to 30°F |
| First Mesa | Zone 6b: -5°F to 0°F |
| Flagstaff | Zone 6b: -5°F to 0°F |
| Florence | Zone 9a: 20°F to 25°F |
| Florence Junction | Zone 9a: 20°F to 25°F |
| Flowing Springs | Zone 7b: 5°F to 10°F |
| Flowing Wells | Zone 9a: 20°F to 25°F |
| Forest Lakes | Zone 6b: -5°F to 0°F |
| Fort Apache | Zone 7b: 5°F to 10°F |
| Fort Defiance | Zone 5b: -15°F to -10°F |
| Fort Huachuca | Zone 8a: 10°F to 15°F |
| Fort Mcdowell | Zone 9b: 25°F to 30°F |
| Fort Mohave | Zone 9b: 25°F to 30°F |
| Fort Mojave | Zone 10a: 30°F to 35°F |
| Fort Thomas | Zone 8b: 15°F to 20°F |
| Fortuna Foothills | Zone 9b: 25°F to 30°F |
| Fountain Hills | Zone 9b: 25°F to 30°F |
| Franklin | Zone 8a: 10°F to 15°F |
| Fredonia | Zone 7a: 0°F to 5°F |
| Freedom Acres | Zone 7b: 5°F to 10°F |
| Gadsden | Zone 10a: 30°F to 35°F |
| Ganado | Zone 6a: -10°F to -5°F |
| Gila Bend | Zone 9b: 25°F to 30°F |
| Gila Crossing | Zone 9b: 25°F to 30°F |
| Gilbert | Zone 9a: 20°F to 25°F |
| Gisela | Zone 8a: 10°F to 15°F |
| Gladden | Zone 9a: 20°F to 25°F |
| Glendale | Zone 9b: 25°F to 30°F |
| Glendale/Luke AFB | Zone 9b: 25°F to 30°F |
| Globe | Zone 9a: 20°F to 25°F |
| Gold Camp | Zone 9a: 20°F to 25°F |
| Gold Canyon | Zone 9a: 20°F to 25°F |
| Golden Valley | Zone 9a: 20°F to 25°F |
| Goodyear | Zone 9b: 25°F to 30°F |
| Grand Canyon | Zone 8a: 10°F to 15°F |
| Grand Canyon Natl Park | Zone 7b: 5°F to 10°F |
| Grand Canyon Village | Zone 8a: 10°F to 15°F |
| Granville | Zone 8b: 15°F to 20°F |
| Grasshopper | Zone 7b: 5°F to 10°F |
| Gray Mountain | Zone 7b: 5°F to 10°F |
| Greasewood | Zone 6b: -5°F to 0°F |
| Green Valley | Zone 9a: 20°F to 25°F |
| Greer | Zone 5b: -15°F to -10°F |
| Growler | Zone 9b: 25°F to 30°F |
| Gu Oidak | Zone 9a: 20°F to 25°F |
| Gu Vo | Zone 9a: 20°F to 25°F |
| Guadalupe | Zone 9a: 20°F to 25°F |
| Hackberry | Zone 8a: 10°F to 15°F |
| Haivana Nakya | Zone 8a: 10°F to 15°F |
| Happy Jack | Zone 6b: -5°F to 0°F |
| Hayden | Zone 9a: 20°F to 25°F |
| Heber | Zone 6b: -5°F to 0°F |
| Heber-Overgaard | Zone 6b: -5°F to 0°F |
| Hereford | Zone 8a: 10°F to 15°F |
| Higley | Zone 9a: 20°F to 25°F |
| Holbrook | Zone 6b: -5°F to 0°F |
| Hotason Vo | Zone 9a: 20°F to 25°F |
| Hotevilla | Zone 6b: -5°F to 0°F |
| Hotevilla-Bacavi | Zone 6b: -5°F to 0°F |
| Houck | Zone 5b: -15°F to -10°F |
| Huachuca City | Zone 8a: 10°F to 15°F |
| Hualapai | Zone 8a: 10°F to 15°F |
| Humboldt | Zone 8a: 10°F to 15°F |
| Indian Wells | Zone 6b: -5°F to 0°F |
| Iron Springs | Zone 7b: 5°F to 10°F |
| Itak | Zone 9a: 20°F to 25°F |
| Jack Rabbit | Zone 7a: 0°F to 5°F |
| Jadito | Zone 6b: -5°F to 0°F |
| Jakes Corner | Zone 8b: 15°F to 20°F |
| Jeddito | Zone 6b: -5°F to 0°F |
| Jerome | Zone 8a: 10°F to 15°F |
| Joseph City | Zone 6b: -5°F to 0°F |
| Kachina Village | Zone 7b: 5°F to 10°F |
| Kaibab | Zone 7a: 0°F to 5°F |
| Kaibito | Zone 7a: 0°F to 5°F |
| Kaka | Zone 9a: 20°F to 25°F |
| Katherine | Zone 9b: 25°F to 30°F |
| Kayenta | Zone 6b: -5°F to 0°F |
| Keams Canyon | Zone 6b: -5°F to 0°F |
| Kearny | Zone 9a: 20°F to 25°F |
| Kelvin | Zone 9a: 20°F to 25°F |
| Kingman | Zone 8b: 15°F to 20°F |
| Kino Springs | Zone 8b: 15°F to 20°F |
| Kirkland | Zone 8a: 10°F to 15°F |
| Klagetoh | Zone 6a: -10°F to -5°F |
| Klondyke | Zone 8b: 15°F to 20°F |
| Kohatk | Zone 9a: 20°F to 25°F |
| Kohls Ranch | Zone 6b: -5°F to 0°F |
| Kom Vo | Zone 9a: 20°F to 25°F |
| Komatke | Zone 9b: 25°F to 30°F |
| Kupk | Zone 9a: 20°F to 25°F |
| Kykotsmovi Village | Zone 6b: -5°F to 0°F |
| La Paz Valley | Zone 9a: 20°F to 25°F |
| Lake Havasu City | Zone 10a: 30°F to 35°F |
| Lake Montezuma | Zone 8b: 15°F to 20°F |
| Lake of the Woods | Zone 6b: -5°F to 0°F |
| Lakeside | Zone 6b: -5°F to 0°F |
| Laveen | Zone 9b: 25°F to 30°F |
| LeChee | Zone 8a: 10°F to 15°F |
| Leupp | Zone 6b: -5°F to 0°F |
| Lewis Springs | Zone 8a: 10°F to 15°F |
| Ligurta | Zone 9b: 25°F to 30°F |
| Linden | Zone 7a: 0°F to 5°F |
| Lirim | Zone 9a: 20°F to 25°F |
| Litchfield Park | Zone 9b: 25°F to 30°F |
| Littlefield | Zone 8a: 10°F to 15°F |
| Littletown | Zone 9a: 20°F to 25°F |
| Low Mountain | Zone 6b: -5°F to 0°F |
| Lukachukai | Zone 6a: -10°F to -5°F |
| Luke AFB | Zone 9b: 25°F to 30°F |
| Lukeville | Zone 9b: 25°F to 30°F |
| Lupton | Zone 5b: -15°F to -10°F |
| Maish Vaya | Zone 9a: 20°F to 25°F |
| Mammoth | Zone 8b: 15°F to 20°F |
| Many Farms | Zone 6b: -5°F to 0°F |
| Marana | Zone 9a: 20°F to 25°F |
| Marble Canyon | Zone 8a: 10°F to 15°F |
| Maricopa | Zone 9a: 20°F to 25°F |
| Maverick | Zone 6b: -5°F to 0°F |
| Mayer | Zone 8b: 15°F to 20°F |
| McConnico | Zone 9a: 20°F to 25°F |
| McGuireville | Zone 8b: 15°F to 20°F |
| McNary | Zone 6b: -5°F to 0°F |
| McNeal | Zone 8a: 10°F to 15°F |
| Meadview | Zone 8a: 10°F to 15°F |
| Mesa | Zone 9a: 20°F to 25°F |
| Mesa del Caballo | Zone 7b: 5°F to 10°F |
| Mescal | Zone 8b: 15°F to 20°F |
| Mesquite Creek | Zone 9b: 25°F to 30°F |
| Mexican Water | Zone 6b: -5°F to 0°F |
| Miami | Zone 9a: 20°F to 25°F |
| Miracle Valley | Zone 8b: 15°F to 20°F |
| Moccasin | Zone 7a: 0°F to 5°F |
| Moenkopi | Zone 7a: 0°F to 5°F |
| Mohave Valley | Zone 10a: 30°F to 35°F |
| Mohawk | Zone 9b: 25°F to 30°F |
| Morenci | Zone 8b: 15°F to 20°F |
| Mormon Lake | Zone 6b: -5°F to 0°F |
| Morristown | Zone 9a: 20°F to 25°F |
| Mount Lemmon | Zone 8b: 15°F to 20°F |
| Mountainaire | Zone 7a: 0°F to 5°F |
| Munds Park | Zone 7a: 0°F to 5°F |
| Naco | Zone 8b: 15°F to 20°F |
| Nazlini | Zone 6a: -10°F to -5°F |
| Nelson | Zone 9a: 20°F to 25°F |
| New Kingman-Butler | Zone 8b: 15°F to 20°F |
| New River | Zone 9b: 25°F to 30°F |
| Nogales | Zone 8b: 15°F to 20°F |
| Nolic | Zone 8b: 15°F to 20°F |
| North Komelik | Zone 9a: 20°F to 25°F |
| North Rim | Zone 7b: 5°F to 10°F |
| Nutrioso | Zone 5b: -15°F to -10°F |
| Oak Springs | Zone 5b: -15°F to -10°F |
| Oatman | Zone 9a: 20°F to 25°F |
| Olberg | Zone 9a: 20°F to 25°F |
| Oljato-Monument Valley | Zone 6b: -5°F to 0°F |
| Oracle | Zone 8b: 15°F to 20°F |
| Oracle Junction | Zone 8b: 15°F to 20°F |
| Oro Valley | Zone 9a: 20°F to 25°F |
| Overgaard | Zone 6b: -5°F to 0°F |
| Page | Zone 8a: 10°F to 15°F |
| Palo Verde | Zone 9a: 20°F to 25°F |
| Palominas | Zone 8b: 15°F to 20°F |
| Paradise Valley | Zone 9b: 25°F to 30°F |
| Parker | Zone 9b: 25°F to 30°F |
| Parker Strip | Zone 9b: 25°F to 30°F |
| Parks | Zone 6b: -5°F to 0°F |
| Patagonia | Zone 8b: 15°F to 20°F |
| Paulden | Zone 7a: 0°F to 5°F |
| Payson | Zone 7b: 5°F to 10°F |
| Peach Springs | Zone 7b: 5°F to 10°F |
| Pearce | Zone 8a: 10°F to 15°F |
| Peeples Valley | Zone 8b: 15°F to 20°F |
| Peoria | Zone 9b: 25°F to 30°F |
| Peridot | Zone 9a: 20°F to 25°F |
| Petrified Forest Natl Park | Zone 6b: -5°F to 0°F |
| Phoenix | Zone 9b: 25°F to 30°F |
| Phoenix/Deer Valley Municipal Arpt | Zone 9b: 25°F to 30°F |
| Pia Oik | Zone 9a: 20°F to 25°F |
| Pica | Zone 7a: 0°F to 5°F |
| Picacho | Zone 9a: 20°F to 25°F |
| Picture Rocks | Zone 9a: 20°F to 25°F |
| Pima | Zone 8b: 15°F to 20°F |
| Pimaco Two | Zone 8a: 10°F to 15°F |
| Pinal | Zone 9a: 20°F to 25°F |
| Pine | Zone 8a: 10°F to 15°F |
| Pinedale | Zone 7a: 0°F to 5°F |
| Pinetop | Zone 6b: -5°F to 0°F |
| Pinetop-Lakeside | Zone 6b: -5°F to 0°F |
| Pinon | Zone 6b: -5°F to 0°F |
| Pirtleville | Zone 8b: 15°F to 20°F |
| Pisinemo | Zone 9a: 20°F to 25°F |
| Pisinimo | Zone 9a: 20°F to 25°F |
| Polacca | Zone 6b: -5°F to 0°F |
| Pomerene | Zone 8a: 10°F to 15°F |
| Portal | Zone 8a: 10°F to 15°F |
| Poston | Zone 9b: 25°F to 30°F |
| Prescott | Zone 8a: 10°F to 15°F |
| Prescott Valley | Zone 8a: 10°F to 15°F |
| Punkin Center | Zone 9a: 20°F to 25°F |
| Quartzsite | Zone 9a: 20°F to 25°F |
| Queen Creek | Zone 9a: 20°F to 25°F |
| Queen Valley | Zone 9a: 20°F to 25°F |
| Quijotoa | Zone 9a: 20°F to 25°F |
| Quivero | Zone 7a: 0°F to 5°F |
| Red Mesa | Zone 6b: -5°F to 0°F |
| Red Rock | Zone 9a: 20°F to 25°F |
| Red Valley | Zone 6b: -5°F to 0°F |
| Rillito | Zone 9a: 20°F to 25°F |
| Rimrock | Zone 8b: 15°F to 20°F |
| Rio Rico | Zone 8a: 10°F to 15°F |
| Rio Rico East | Zone 8b: 15°F to 20°F |
| Rio Verde | Zone 9b: 25°F to 30°F |
| Robles Junction | Zone 8b: 15°F to 20°F |
| Rock Point | Zone 6b: -5°F to 0°F |
| Rok | Zone 7a: 0°F to 5°F |
| Roll | Zone 9a: 20°F to 25°F |
| Rooltanca | Zone 9b: 25°F to 30°F |
| Roosevelt | Zone 9b: 25°F to 30°F |
| Rough Rock | Zone 6b: -5°F to 0°F |
| Round Rock | Zone 6b: -5°F to 0°F |
| Rye | Zone 8a: 10°F to 15°F |
| Sacaton | Zone 9a: 20°F to 25°F |
| Safford | Zone 8b: 15°F to 20°F |
| Saguaro Natl Park | Zone 8b: 15°F to 20°F |
| Sahuarita | Zone 9a: 20°F to 25°F |
| Saint David | Zone 8a: 10°F to 15°F |
| Saint Johns | Zone 6b: -5°F to 0°F |
| Saint Michaels | Zone 5b: -15°F to -10°F |
| Salido | Zone 6b: -5°F to 0°F |
| Salome | Zone 9a: 20°F to 25°F |
| San Carlos | Zone 9a: 20°F to 25°F |
| San Jose | Zone 8b: 15°F to 20°F |
| San Luis | Zone 10a: 30°F to 35°F |
| San Manuel | Zone 8b: 15°F to 20°F |
| San Miguel | Zone 9a: 20°F to 25°F |
| San Simon | Zone 8b: 15°F to 20°F |
| San Tan Valley | Zone 9a: 20°F to 25°F |
| Sanders | Zone 6a: -10°F to -5°F |
| Santa Cruz | Zone 9a: 20°F to 25°F |
| Santa Rosa | Zone 9a: 20°F to 25°F |
| Santan | Zone 9a: 20°F to 25°F |
| Sasabe | Zone 9a: 20°F to 25°F |
| Sawmill | Zone 5b: -15°F to -10°F |
| Schuchuli | Zone 9a: 20°F to 25°F |
| Scottsdale | Zone 9b: 25°F to 30°F |
| Seba Dalkai | Zone 6b: -5°F to 0°F |
| Second Mesa | Zone 6b: -5°F to 0°F |
| Sedona | Zone 7b: 5°F to 10°F |
| Sehili | Zone 6a: -10°F to -5°F |
| Seligman | Zone 7a: 0°F to 5°F |
| Sells | Zone 8b: 15°F to 20°F |
| Sevenmile | Zone 7b: 5°F to 10°F |
| Shongopovi | Zone 6b: -5°F to 0°F |
| Shonto | Zone 6b: -5°F to 0°F |
| Show Low | Zone 6b: -5°F to 0°F |
| Shungopavi | Zone 6b: -5°F to 0°F |
| Sierra Vista | Zone 8a: 10°F to 15°F |
| Sierra Vista Southeast | Zone 8b: 15°F to 20°F |
| Signal | Zone 9b: 25°F to 30°F |
| Sil Nakya | Zone 8b: 15°F to 20°F |
| Silver Bell | Zone 9a: 20°F to 25°F |
| Simmons | Zone 7a: 0°F to 5°F |
| Skull Valley | Zone 8a: 10°F to 15°F |
| Snowflake | Zone 6b: -5°F to 0°F |
| Solomon | Zone 8b: 15°F to 20°F |
| Somerton | Zone 10a: 30°F to 35°F |
| Sonoita | Zone 8b: 15°F to 20°F |
| South Komelik | Zone 9a: 20°F to 25°F |
| South Tucson | Zone 9a: 20°F to 25°F |
| Spring Valley | Zone 8b: 15°F to 20°F |
| Springerville | Zone 6a: -10°F to -5°F |
| Stan Shuatuk | Zone 9a: 20°F to 25°F |
| Stanfield | Zone 9a: 20°F to 25°F |
| Star Valley | Zone 7b: 5°F to 10°F |
| Steamboat | Zone 6b: -5°F to 0°F |
| Steamboat Canyon | Zone 6b: -5°F to 0°F |
| Stoval | Zone 9b: 25°F to 30°F |
| Strawberry | Zone 8a: 10°F to 15°F |
| Summerhaven | Zone 8b: 15°F to 20°F |
| Summit | Zone 9a: 20°F to 25°F |
| Sun City | Zone 9b: 25°F to 30°F |
| Sun City West | Zone 9b: 25°F to 30°F |
| Sun Lakes | Zone 9a: 20°F to 25°F |
| Sun Valley | Zone 6b: -5°F to 0°F |
| Sunizona | Zone 8a: 10°F to 15°F |
| Sunrise Park Resort | Zone 6a: -10°F to -5°F |
| Sunrise Springs | Zone 6b: -5°F to 0°F |
| Sunrise Trading Post | Zone 6a: -10°F to -5°F |
| Supai | Zone 8b: 15°F to 20°F |
| Superior | Zone 9b: 25°F to 30°F |
| Supi Oidak | Zone 9a: 20°F to 25°F |
| Surprise | Zone 9b: 25°F to 30°F |
| Swift Trail Junction | Zone 8b: 15°F to 20°F |
| Tacna | Zone 9b: 25°F to 30°F |
| Tanque Verde | Zone 8b: 15°F to 20°F |
| Tat Momoli | Zone 9a: 20°F to 25°F |
| Taylor | Zone 6b: -5°F to 0°F |
| Teec Nos Pos | Zone 6b: -5°F to 0°F |
| Tees Toh | Zone 6b: -5°F to 0°F |
| Tempe | Zone 9a: 20°F to 25°F |
| Tempe Junction | Zone 9a: 20°F to 25°F |
| Temple Bar Marina | Zone 8b: 15°F to 20°F |
| Thatcher | Zone 8b: 15°F to 20°F |
| Three Points | Zone 8b: 15°F to 20°F |
| Three Way | Zone 8a: 10°F to 15°F |
| Tolani Lake | Zone 6b: -5°F to 0°F |
| Tolleson | Zone 9b: 25°F to 30°F |
| Tombstone | Zone 8a: 10°F to 15°F |
| Tonalea | Zone 6b: -5°F to 0°F |
| Tonopah | Zone 9a: 20°F to 25°F |
| Tonto Basin | Zone 8b: 15°F to 20°F |
| Tonto Village | Zone 6b: -5°F to 0°F |
| Top-of-the-World | Zone 9b: 25°F to 30°F |
| Topawa | Zone 9a: 20°F to 25°F |
| Topock | Zone 10a: 30°F to 35°F |
| Tortilla Flat | Zone 9b: 25°F to 30°F |
| Tortolita | Zone 9a: 20°F to 25°F |
| Toyei | Zone 6b: -5°F to 0°F |
| Truxton | Zone 8a: 10°F to 15°F |
| Tsaile | Zone 6a: -10°F to -5°F |
| Tuba City | Zone 6b: -5°F to 0°F |
| Tubac | Zone 8b: 15°F to 20°F |
| Tucson | Zone 9a: 20°F to 25°F |
| Tucson Estates | Zone 9a: 20°F to 25°F |
| Tucson/Davis-Monthan AFB | Zone 9a: 20°F to 25°F |
| Tumacacori | Zone 8b: 15°F to 20°F |
| Tumacacori-Carmen | Zone 8b: 15°F to 20°F |
| Tusayan | Zone 8a: 10°F to 15°F |
| Tuweep | Zone 8b: 15°F to 20°F |
| Twin Buttes | Zone 9a: 20°F to 25°F |
| Two Guns | Zone 5b: -15°F to -10°F |
| Utting | Zone 9a: 20°F to 25°F |
| Vail | Zone 8b: 15°F to 20°F |
| Vainom Kug | Zone 9a: 20°F to 25°F |
| Vaiva Vo | Zone 9a: 20°F to 25°F |
| Valencia West | Zone 9a: 20°F to 25°F |
| Valentine | Zone 8a: 10°F to 15°F |
| Valle | Zone 7a: 0°F to 5°F |
| Valley Farms | Zone 9a: 20°F to 25°F |
| Vamori | Zone 9a: 20°F to 25°F |
| Vaya Chin | Zone 9a: 20°F to 25°F |
| Ventana | Zone 9a: 20°F to 25°F |
| Verde Village | Zone 8b: 15°F to 20°F |
| Vernon | Zone 6b: -5°F to 0°F |
| Vicksburg | Zone 9a: 20°F to 25°F |
| Waddell | Zone 9b: 25°F to 30°F |
| Wahak Hotrontk | Zone 9a: 20°F to 25°F |
| Washington Park | Zone 7a: 0°F to 5°F |
| Wellton | Zone 9b: 25°F to 30°F |
| Wenden | Zone 9a: 20°F to 25°F |
| West Sedona | Zone 8a: 10°F to 15°F |
| West Winslow | Zone 7a: 0°F to 5°F |
| Whetstone | Zone 8a: 10°F to 15°F |
| Whispering Pines | Zone 7a: 0°F to 5°F |
| White Cone | Zone 6b: -5°F to 0°F |
| White Hills | Zone 8b: 15°F to 20°F |
| White Mountain Lake | Zone 7a: 0°F to 5°F |
| Whiteriver | Zone 7b: 5°F to 10°F |
| Wickenburg | Zone 9a: 20°F to 25°F |
| Wide Ruins | Zone 6a: -10°F to -5°F |
| Wikieup | Zone 9a: 20°F to 25°F |
| Wilhoit | Zone 8a: 10°F to 15°F |
| Willcox | Zone 8a: 10°F to 15°F |
| Williams | Zone 7a: 0°F to 5°F |
| Williamson | Zone 7a: 0°F to 5°F |
| Willow Beach | Zone 9b: 25°F to 30°F |
| Willow Canyon | Zone 8b: 15°F to 20°F |
| Willow Valley | Zone 10a: 30°F to 35°F |
| Window Rock | Zone 5b: -15°F to -10°F |
| Winkelman | Zone 9a: 20°F to 25°F |
| Winslow | Zone 7a: 0°F to 5°F |
| Winslow West | Zone 6b: -5°F to 0°F |
| Wintersburg | Zone 9a: 20°F to 25°F |
| Wittmann | Zone 9b: 25°F to 30°F |
| Woodruff | Zone 6b: -5°F to 0°F |
| Yarnell | Zone 8b: 15°F to 20°F |
| York | Zone 7b: 5°F to 10°F |
| Young | Zone 7a: 0°F to 5°F |
| Youngtown | Zone 9b: 25°F to 30°F |
| Yucca | Zone 9a: 20°F to 25°F |
| Yuma | Zone 10a: 30°F to 35°F |
| Yuma MCAS | Zone 10a: 30°F to 35°F |